Only 2 days after the end of the month (a record!), here's my sixth Head & Heart post – "a monthly capture of my feelings and doings, in the raw."
What I've been doing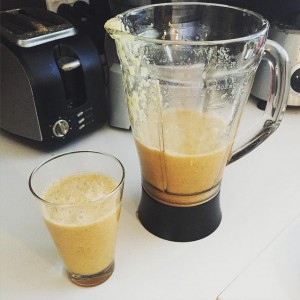 After my blergh August, I've got on back track with a few things that make me healthier and happier – meditating (on my bus commute using the Calm app), tracking my spending using YNAB, walking more regularly (and I've started tracking my steps using the Fitbit app). I've also been blending fresh juices/smoothies and feel like they're (positively) impacting on my energy levels.
September also involved quite a bit of work preparing for the new She Leads Diploma intake. I am really committed to continuing to improve the course to make it one of the most innovative leadership development programs for women in Canberra. Like conference organising, I feel that designing training is something that aligns with my strengths, providing an opportunity for creativity within a structured program.
I'm grateful for
Sunshine. I've been noticing and appreciating feeling the sun on my skin as I exercise.
FaceTime. We don't have any family in Canberra so FaceTime is such an important way for E to get to know and maintain connection with her family.
My family's good health. We were all well this month (apart from a touch of hayfever) and what a difference it made to how productive I felt and my mental wellbeing.
I've been thinking about
Tooting my friends' horns

. In

Lean In

, Sheryl Sandberg shares a story of a workplace/team where instead of asking the women to talk about themselves, she asked them to tell one another's stories, which made the women more comfortable and also helps to avoid that perception that women who talk up their own accomplishments are less likeable. This month I was listening to an episode of 

Chat 10 Looks 3

 where Leigh Sales mentioned that when Annabel Crabb's book

The Wife Drought

came out she purchased 1000 copies and sent them (with a personalised note) to leaders all around the country. These two stories got me thinking about how valuable it is for women to call out and promote the great things that other women in our networks are doing and has motivated me to start doing this more regularly for my friends and colleagues.

How we talk about/the assumptions we make about the division of household/parenting responsibilities. An except from Anne-Marie Slaughter's new book, Unfinished Business, was published on Time – 'Women are Sexist Too' – and it, along with Jess Irvine's opinion piece on parenting and inequality, has got me thinking about the default language I use in discussions about division of household/parenting responsibilities. No longer will I talk about male partners 'helping' around the house or with kids, and I'll fight any tendency I have to leave 'instructions' for Jason next time I'm away!
I'm excited for
Summer, building a cubby for E (well we're having one built), daylight saving, and being able to spend afternoons and evenings in the backyard.
I've been reading
Only one book completed this month – Finding Ultra by Rich Roll which I quite enjoyed and got me thinking about nutrition and how amazing the human body is.
Julia Baird's NY Times op-ed on her cancer diagnosis was also worth reading. I loved this line in it… "…stillness and faith can give you extraordinary strength. Commotion drains." This is so true of so many life challenges and it particularly resonated with me when thinking about the struggles I had in the early months of parenting.
I've been listening to/watching
Interested in joining this monthly reflection project? Pop on over to Lime Tree Bower for all the details and to share your post.