Head & Heart is designed to be "a monthly capture of my feelings and doings, in the raw." 
What I've been doing
I mentioned it briefly in last month's post, but this month started with a trip to Adelaide to do a Executive Certificate in Event Management.

I'm also super excited to have commenced in a permanent part-time position at YWCA Canberra as the newly created Leadership Programs Manager. I'll be managing and trying to grow the range of great women's leadership development initiatives under the SheLeads brand.

A message from one of my aunties via Ancestry.com got me interested in delving into more details of my family tree. I tend to do my family tree research in bursts – mainly because I only want to pay for Ancestry.com premium access for a month at a time and try to get maximum value out of it! In this recent round of research I discovered a few new interesting facts… My 2nd great-grandfather, Robert McDonald, was the keeper of the Gladstone Gaol in South Australia for over 20 years in the early 1900s. My 3rd great-grandfather, John Tortoise, built and was the first publican of the Western Hotel in Port Augusta.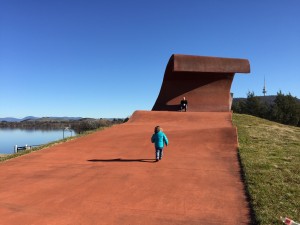 I'm grateful for
Sunny Canberra winter days. Even when it's freezing outside, being able to see the sun is such a delight.
My brother Neale coming to stay at short notice to help me out with caring for E while J was away for a couple of weeks.
I've been thinking about
Meditation, and why I don't do it! Reading 10% Happier (see below) really highlighted so many of the benefits of meditation (many of which I was aware of) and I can see how a regular meditation practice would be a valuable thing to do. But for whatever reason, I've never been able to get into the habit of meditating regularly – perhaps it's the difficultly in finding a time/space where I know I won't be interrupted for 5 minutes, or the belief that I need to finish all of the other things on my to-do list first before I can sit down and take a few minutes for myself.

 June marked one full year of using

You Need a Budget (YNAB)

 – the longest period that I've ever stuck with any kind of expenditure tracking/budget program – so I've been thinking about the impact that it has had. I won't delve too deeply into money stuff (and all my associated money hang-ups) here, but while I can't credit YNAB with magically transforming our spending habits or financial position, it's helped me to get my 'head out of the sand' and as a result feel more in control and less anxious about where our money is going and ensuring that all our major commitments will be met.
I'm excited for
The new job at YWCA Canberra and the opportunity to create some new and exciting events for Canberra women.

Jason coming home from almost two weeks away. Single parenting is hard – especially when you have a sick toddler and then get sick yourself! Felt like the wheels came off completely!

E turning 2! She's starting to understand and be so much more excited by the idea of celebrations (and presents). Fun times!
I've been reading
I'm pleased to have gotten back on track with my reading this month. June was a month of memoirs…. I read Amy Poehler's Yes, Please (3 stars), Eve Ensler's In the Body of the World (4 stars) and 10% Happier by Dan Harris (4 stars). At the half-way point of the year, I'm 3 books ahead of schedule for my 2015 reading challenge to read 25 books this year.
One of the articles that has made me think a lot this month is this piece from the New York Times – What Makes a Woman.
I've been listening to/watching
Thanks to Carly Findlay's recommendations, this month I tried (and enjoyed) two new podcasts – The Osher Gunsberg podcast (specifically his interview with Amanda Keller) and Wilosophy with Wil Anderson (interview with Corrine Grant).
I also enjoyed The Killing Season. If you haven't watched it yet, I highly recommend it. Even if you aren't all that interested in politics, or you doubt it's worth watching 'cause you know how it ends, it is still a fascinating study of leadership and human behaviour and self-reflection.

I Am Big Bird

 is a wonderful documentary about the life of Caroll Spinney, the man who has been Sesame Street's Big Bird and Oscar the Grouch since 1969. At 81 years old, he still dons the Big Bird suit and performs! Amazing!
Interested in joining this monthly reflection project? Pop on over to Lime Tree Bower for all the details and to share your post.