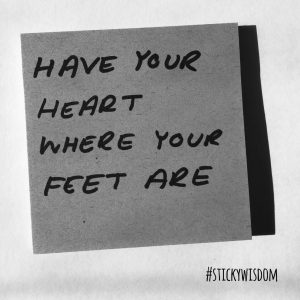 Often I catch myself in 'when/then' self-talk, particularly in relation to parenting  – 'when my kids sleep through the night then I'll be able to get up early and go running', 'when we don't have to pay for daycare anymore we'll be able to consider upgrading the house/take a holiday', 'when the kids are older I'll have more flexibility to travel with my work', 'when I don't have to spend my evenings cleaning up vomit I'll be able to write more blog posts' (that was last night)…. It's like life with little children, although very much planned and wanted, is some kind of temporary detour from the life I could or should be living. Lately, I've been trying to remind myself that this isn't a detour, this is my life, and to lean into the experience rather than looking for what might be on the other side. So when I read this piece from Omid Safi this week his wise words resonated strongly – "Your life will not start down the road. This is life. Be here now. Have your heart where your feet are." I love this so much and have added it to my collection of #stickywisdom (I'm trying to figure out the best way to collate and share my #stickywisdom, so I'm experimenting with a new dedicated Instagram account – sticky.wisdom).
---
E has decided she wants to be a geologist when she grows up (I think she's keen on the idea of finding a heap of gold!). Despite doing at least a semester of university-level geology, I can't remember even the basic info about the different rock types so we found some YouTube videos. Thank goodness for YouTube! But it was a moment when I kind of missed having a World Book encyclopedia on the shelf.
Apparently, the best way to learn anything is to teach it to a child, so instead of completely outsourcing responsibility for satisfying my children's curiosity to YouTube, I'm going to view fielding questions as a highly effective way to enhance my own understanding of a subject. And it's also got me thinking about how I can integrate the Feynman technique into the workshops I facilitate.
Mars is visible at the moment (as is Saturn). I only learned this from overhearing an episode of the Imagine This podcast that E was listening to. I'm rarely outside in the evening (especially in winter), but we've downloaded the super cool Night Sky app on our phones and have enjoyed rugging up and doing some planet spotting. If you're in Canberra and have little kids you may be keen to check out this star gazing playgroup session that our babysitter Sami is running at the end of the month.
---
Last weekend we had an unexpected visitor – 'Patch' the bear from E's pre-school. Basically the kids take turns taking Patch home for the weekend, and you're meant to involve Patch in your weekend activities, and add some photos/text to a journal for your child to share with the class on Monday morning. Of course this means that someone has to remember to pack Patch for any weekend outing, and then photograph Patch, and print the photos and arrange them with text descriptions in the journal.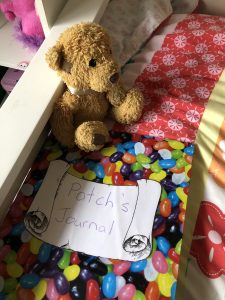 Whenever we have one of these visitors I'm reminded of Annabel Crabb's 'The Wife Drought' where she shares a similar story about 'Chiquita the kangaroo' to illustrate the type of work involved in managing a home/family – work that's not paid (and often barely recognised) but that you feel emotionally obligated to fulfil (and super guilty if you stuff up). And it's work that's most often undertaken by 'wives'.
Given my life stage it's hardly surprising that my virtual feeds and in-person conversations are full of discussions and commentary that include many stories like those about 'Patch/Chiquita' including this piece – I decided to drop my family's mental load for a week.
The 'list' also came up in this episode of Dear Sugars on emotional labour which was quite good. But, I feel like in this episode, and in many articles, there is a conflation and confusion of the terms emotional labour, invisible work, domestic labour, mental load etc. I wasn't really aware of this until I read Please Stop Calling Everything That Frustrates You Emotional Labor. This episode of WorkLife on faking your emotions at work also helps to explain what emotional labor looks like in a work setting. Regardless, I do want an 'I am the List' t-shirt.
---
I've been listening to a lot of the 5 Things podcast. The premise is quite simple but a unique take on the traditional interview – guests bring in 5 physical things that they treasure or that are resonant in some way, and share the story of their life through these objects. The guests don't appear to be particularly famous (Manoush Zomorodi was the only name in the guest list I recognised), but it's so fascinating to hear about different stories/lives and I love how physical objects can be used to elicit such deep, meaningful, personal conversation and connection. Of course, it's got me thinking about what my five things would be too.
---
A new recipe that's getting a lot of use in our house – 'boost your basic' double choc chip cookies from One Handed Cooks. Yes, they are choc-chip cookies so they're not really a healthy snack, but I prefer these to the usual ones that are heavy on the butter and sugar. I've probably already shared it before but their carrot cookies (with no refined sugar, eggs, nuts or dairy) are a lunch-box staple at our place.
Head & Heart is an occasional update about the things that have engaged my head or heart recently – things I've been pondering, articles I've read, podcasts I've listened to etc. If you'd like to receive the updates via email, you can sign up here.