Orbiting the Giant Hairball: A Corporate Fool's Guide to Surviving with Grace by Gordon MacKenzie
My rating: 5 of 5 stars
I first heard one of the stories from this book when listening to Tom Kelley's Entrepreneurial Thought Leaders lecture on how to be an innovator for life. I didn't really know what to expect from the book, but I loved it! The author uses a series of often humorous, short, personal stories to reflect on and illustrate the problems with most organisational cultures and how to avoid losing one's sanity and individuality when working in one.
My notes from Orbiting the Giant Hairball

[Disclaimer: The notes below are rough, and may be a mixture of direct quotes, paraphrasing, and my own thoughts/ideas/reminders. They're written here primarily for me (so they may not make much sense out of context, especially for those who haven't read the book)].
(17) Disruption with purpose.
(33) Orbiting is responsible creativity. Vigorously exploring and operating beyond the Hairball of the corporate mind set, beyond "accepted models, patterns or standards" – all the while remaining connected to the spirit of the corporate mission.
To find Orbit around a corporate Hairball is to find a place of balance where you benefit from the resources of the organisation without becoming entombed in the bureaucracy of the institution.
(46) …catch the attention of the sleep walking geniuses and lure them to wakefulness, help them find the courage to be who they truly were instead of who the company expected them to be and entice them into meeting life with an exuberance that benefits humanity.
(51-53) Chicken mesmerised by chalk line.
(53) It is a delicate balance, resisting the hypnotic spell of an organisation's culture and, at the same time, remaining committed from the heart to the personally relevant goals of the organisation.
(59) Pool player – Sometimes, when you see a colleague whose job seems easy, you may in fact be witnessing a champion at play.
(64) Measurable evidence of creativity vs invisible creative activity. Cow making milk.
'A management obsessed with productivity usually has little patience for the quiet time essential to profound creativity.'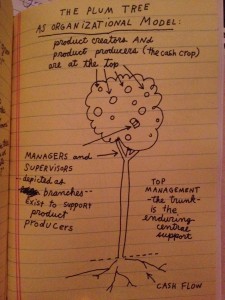 (174) Pyramid vs plum tree organisation
Pyramid – organises into 'Divisions' (the state of being divided) and 'Departments'
Plum tree – organises into 'Groups' (a number of persons who act as a unit) and 'Forces' (groups having the power of effective action)
(211) Allow those you lead… To lead… when they feel the need. All will benefit.
(224) If you go to your grave without painting your masterpiece, it will not get painted. No one else can paint it. Only you.