Like most new mums, bringing my baby home (around 12 hours after she was born) was a total shock. I had done so much preparation for the labour and birth (which seemed to pay off – my birth experience was really positive), but felt like a total idiot for not (apart from one antenatal class where we learned to put on a nappy and watched a breast-feeding video) even contemplating what the heck I was meant to do with this little creature once we got home.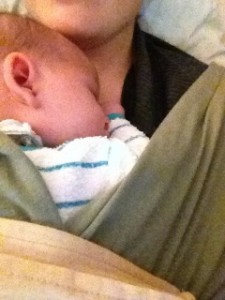 And the thing that caused the most shock was sleep, or more accurately, the lack of sleep. It wasn't as if I'd thought it'd be easy to get my baby to sleep, I just hadn't thought about it at all. Sure, I'd heard of 'sleep school' and tales of parental sleep deprivation, and I knew, especially in the early days, that there'd be feeds at all hours, but I just didn't expect getting a baby to go to sleep (and as an extra bonus, stay asleep) to be so darn hard.
The point of this post isn't to detail our sleep woes or to provide advice about what has worked and what hasn't, but to call BS on the stories of sleep fixes that fill books and blog posts, and that are desperately lapped up by tired and anxious parents like me.
I feel like I've read a bazillion of these and they follow a pretty standard formula…
[REAL OR FICTIONAL NAME OF BABY] was [AGE – generally between 4 & 18 months]. [BABY] [DESCRIPTION OF SLEEP PROBLEM – multiple night wakening, catnapping, distress when putting to bed, having to rock to sleep etc]. [BABY]'s parents [REAL OR FICTIONAL NAME OF PARENTS] were exhausted and increasingly desperate.

On the first night, [BABY'S PARENT] completed their bed-time routine, put [BABY] into their cot awake, and left the room. [BABY] started crying shortly after. [BABY'S PARENT] followed [MIRACLE BABY SLEEP PLAN STEP]. It took almost 2 hours, but [BABY'S PARENT] persevered and [BABY] went to sleep. When [BABY] woke a few hours later, [BABY'S PARENT] [MIRACLE BABY SLEEP PLAN STEP]. Again, it took another hour of consistent application of [MIRACLE BABY SLEEP PLAN STEP] before [BABY] returned to sleep.

On the second night, [BABY'S PARENT] put [BABY] to bed. This time [BABY] settled to sleep after 45 mins of [MIRACLE BABY SLEEP PLAN STEP]. [BABY] woke once overnight, but [BABY'S PARENT] resettled them in under 5 mins using [MIRACLE BABY SLEEP PLAN STEP]. On the third night [BABY] settled to sleep in only 10 minutes and slept right through the night. [BABY] woke happier, and having enjoyed their first full night of unbroken sleep since [BABY] was born, so did [BABY'S PARENTS].
And this is where the story stops. And it's implied that BABY and BABY'S PARENTS all lived happily ever after. You just need to be persistent and consistent in your application of MIRACLE BABY SLEEP PLAN over a number of a nights and then you can tick 'sleep' off your parenting to-do list. (And if MIRACLE BABY SLEEP PLAN hasn't worked for you yet, then the problem is most likely your lack of persistence and consistency).
I've decided that these stories are BS and are probably causing many already anxious parents more angst. It's not that I think that these stories are false or that the authors of the MIRACLE BABY SLEEP PLAN are lying. Rather, these stories are just a snapshot in time (usually over a few days). What happened on day 6? Or day 60? What happened when BABY started sitting up themselves, or standing? Or when they cut their first tooth? Or when they weaned? Or when they dropped a day sleep? Or when daylight saving started (or ended)? Or when they stay at grandma and grandpa's?
For months I've being bemoaning the nights/weeks where I've felt like we've gone backwards with sleeping. 'But she knows how to self-settle, so why isn't she? Isn't this meant to be getting easier?' I'd often think. But recently, I've decided that the problem isn't my baby or me, it's the unrealistic expectations that these MIRACLE BABY SLEEP PLAN stories create.
I'm only a year in to this whole parenting thing, so I don't pretend for a second to have any idea what I'm talking about, but one thing that I've learned (and feel like I'm still learning) is that you're never 'done' with parenting. Getting to the first year milestone felt like a massive achievement and worthy of celebrating (for us as parents, more than for Ella!). But it's not like shipping a product or finishing a project. It keeps going. You wake up each morning and get to do it all again. And these little people keep changing and so you need to too. I expect that I'll continue to have days that feel easier than others, and there will be different challenges that dominate my time, energy and desperate internet forum trawling!
While I don't doubt that the MIRACLE BABY SLEEP PLANS are written with good intentions to try to help babies and their parents to sleep more, the 'real life' stories and testimonials that they include aren't doing anyone any favours by creating the impression that there will be this exponential improvement in the time/effort taken to get your baby to (or back to) sleep, and that once you 'solve' your sleep 'problem' then you'll have your happily ever after ending.