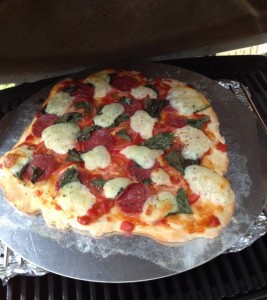 My mum recently shared her super-easy pizza dough recipe with me. I've made it twice now and it's been great (cooked in the Weber Q on a pizza stone) so thought it was worth sharing here…
There are only two ingredients: 2 cups self-raising flour and 1 cup natural/Greek yoghurt. Yep, that's it!
Mix the ingredients together and knead into a ball. Cover and refrigerate for 1/2 an hour. Roll out dough to desired thickness (remembering that it'll rise a little bit on cooking). We use a little bit of salsa over the base (which has a lighter flavour than tomato paste or pizza sauce) and then top with whatever we've got handy (fresh basil, tomato and mozzarella is always a winner!).
Delicious!