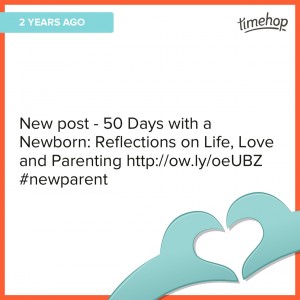 A couple of months ago Timehop reminded me of a post I'd written exactly 2 years prior – 50 Days with a Newborn: Reflections on Life, Love and Parenting. All of those 10 lessons that I captured then remain relevant 2 years in, but also I've learned so so so much more. In addition to the many practical lessons I've learned about the ins and outs of living with a little human (ie. always pack more wipes and snacks than you think you'll need), these are 7 further life lessons that I've learned so far!
There are a million ways I could f-up / am f-ing up my kid. It's better to focus instead on the million ways to be a great parent. I would go insane if I spent too much thinking about all the little things I've done 'wrong' and stressing about how many of the small choices I've made will mess up my kid. So instead I try to focus on all the little things that I can do to create a great relationship with my daughter – the smiles, the stories, the cuddles, the encouraging words – and hope that these outweigh the inevitable little f-ups along the way.
It doesn't get easier, but you get better (I read that somewhere, so can't take the credit for it, but I totally agree). Parenting feels kind of like a computer game. Each time you feel like you kind of know what you're doing, it's time to 'level up' and move onto a new challenge. But you do learn skills along the way that you can apply in the next level.
Be the person you want your kid to be. Pretty much bang on E's first birthday my parenting anxiety shifted from 'how do I keep this kid alive?' to 'how do I make sure this kid grows up to be a decent human?'. I spent some time browsing through various parenting books on Amazon desperate to get some kind of guidance on how to teach qualities like respect and kindness, but quickly realised that the best way to teach her this is to be respectful and kind myself. Knowing that a little person is constantly observing and learning from everything you say and do is a good motivation to try and be my best me. Not a perfect me by any stretch of the imagination, but the best me in the moment.
I feel enormous compassion for my past self, so it follows that my future self will have compassion for me. If I could go back in time to those first few weeks after becoming a mum and watch myself sitting with E in the middle of the night in a darkened room, sleep-deprived, and feeling like a complete failure for my inability to get my kid to sleep, I'd wrap an arm around past-Clare's shoulders and tell her it'll all be ok. When ever I feel alone, confused, or simply over it, I imagine my future-self looking back on this moment and reassuring me that I'll get through it.
Don't put off to tomorrow what you can do today. Things can change pretty quickly and it's almost inevitable that if I *need* to get something done tomorrow, E won't sleep, or will get sick, or we'll have some other distraction.
Start anywhere. I often have moments of looking around the house and being overwhelmed with the chaos and having no idea what to do and where to start. I've learned that it's usually not worth stressing about it or spending time trying to figure out a plan of attack, it's better just to get started.
Learning to back yourself is both empowering and terrifying. When E was about 3 months old we had a stay at the QE2 Family Centre due to some feeding (and sleeping) issues we were having. I'd had advice from a GP, 2 MACH nurses, a lactation consultant, an Australian Breastfeeding Association counsellor, and about 8 different midwives/nurses during my stay at QE2. I was trying desperately to do everything everyone suggested (which was simply impossible given that their well-intention advice was often contradictory). On my final day at QE2, I was close to tears and ready to give up on breastfeeding and I'll never forget what one of the midwives, Wendy, said to me. She simply asked "What do you want to do? You have all the information, now you need to decide." This was such an important moment for me as it made me realise that I was the decision-maker. It wasn't about doing what someone else told me, or trying to please everyone, rather it was about seeing their advice as exactly that, advice, and using it to inform my decision and actions.
And when Timehop reminds me of this post a year from now, I look forward to reflecting back and adding to the list.