I've been doing a bit of facilitation and training over the last few months and often found myself feeling not as prepared as I would have liked (a combination of life busy-ness, miscalculation on my part about how long the preparation would take, plus a little procrastination). It is uncomfortable to do something before you're 'ready', so I've been thinking a lot about something Lorne Michaels (Saturday Night Live creator and prpodcastoducer) said in an interview on Alec Baldwin's Here's The Thing :
We don't go on because we're ready. We go on because it's 11.30.
Not being 'ready' is not a barrier to putting work into the world, and good work at that. In fact, delaying an action until one feels 'ready' is a kind of inbuilt defense mechanism to avoid any failure or risk of criticism and negative reaction from others. As Tim Herrera wrote this week in his New York Times Better Living column, 'it's never going to be perfect, so just get it done'.
So, with that in mind, I'm trying hard to post this update before I'm ready. Before it completely captures all of the things that I want to share. Before I know exactly what to say. Before I've done the deep recollection and reflection on all the things that I've done and thought and am grateful for and that I've read and listened to over the last 3 months since I last posted.
Three things that are bringing joy or adding value to my life right now…
Not dying my hair
I dyed my hair for the last time in February. Feeling inspired by grombre (discovered via the lovely Jen Frahm who's rocking her short silver style) I took the opportunity to get a new cut and am letting the old colour grow out and fade away. I have quite substantial (but still patchy) grey coverage and I'm enjoying it way more than I thought I would. I feel more 'me'. The money, time and hassle saved are also a big bonus.
Hiring a running coach
About a year ago I decided I would run the 10k at the Gold Coast Marathon (committing my future self to 'go on at 11.30′ whether I was ready or not!). I'd done ok with the C25K program but by late April I knew I'd need some extra help to make it to 10. I am a total obliger and so accountability is really important for me in working to achieve a goal. I've never met my coach Kate, but her program, support, encouragement and accountability got me there! My goal was to run the whole way – and I did it! And I loved it too!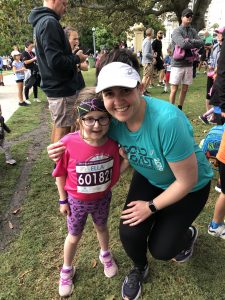 As someone who likes immediate gratification and success (who doesn't?) sometimes I can get disheartened and lack persistence when the progress is slow and the work is hard. But doing this running training has taught me so much about trusting a process and incremental improvement and just doing the work. The other huge advantage of having a running coach is the elimination of the cognitive work involved in figuring out and planning a training program. As a working mum I feel like my brain is constantly full (what are we having for dinner? what forms need to go back to school? have I paid the car rego? whose clothes/shoes are too small? have I actually delivered on the work that I committed to do? etc etc). I've realised that my brain space is actually a really precious resource worth managing intentionally. So outsourcing this running-related research, planning and decision-making to someone more qualified and experienced seems like a good move – now I don't even think about 'how far/long should I run today?', I just wake up and do whatever the plan says I need to do!
Related…. the Gold Coast Marathon was such a great, well organised event we're planning on going back next year. And I'm so grateful for all of the volunteers and supporters who made the event run so smoothly and whose cheers and encouragement and high-fives made a massive difference! If you ever find yourself nearby to a fun run/triathlon get along (even just for a few minutes) and clap/cheer – it really does help!
Grocery delivery
Food planning, shopping and preparation is definitely not a source of joy in my life, but for the last few months it's been made much easier by embracing online ordering and delivery. At first I saw it as extra expenditure I didn't need (and I kept putting off the planning bit so I didn't ever feel 'ready' to place the order), but now when I think of it as paying someone to go to the supermarket, find the groceries, put them in a trolley, go through the checkout, drive them to my house, and unpack them on my kitchen bench, that definitely feels like money worth spent. This is consistent with research that has found that spending money to buy time increases happiness more than spending it on stuff. I'm pleased that Coles online have a bag free option too now so I'm not dealing with storing/recycling mounds of plastic bags!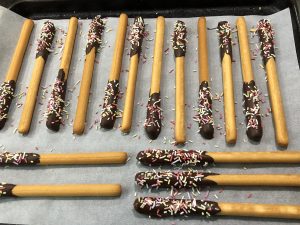 On a food-related note, I've been trying some of the recipes from The Fast 800 Recipe Book (the ratatouille and halloumi bake is a favourite so far). And this smoky chickpea and red lentil soup was also delicious (and conveniently able to be created from stuff I had in my pantry when we returned home from holidays, hadn't done a grocery order and I felt crappy with a head cold).
Finally, I made these fat pocky for E to take to celebrate her birthday with her class (unfortunately she was sick, so we'll be making them again next term for a belated celebration). Adam Liaw is a genius!
And the rest…
E turned 6 last week and got a few really great gifts – we're all loving playing a new card game, Sleeping Queens, she's super excited to take on some of the art projects in this book, and is enjoying reading Stuck in the Stone Age. If you have little people (age around 6-9) in your life, these might be some good gift suggestions. And how cool is this Pokemon inspired portrait that Ella's uncle Noo (Neale) & the enormously talented Cody created?!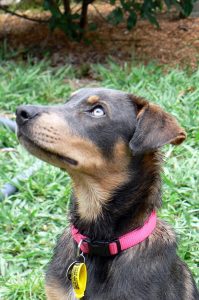 We farewelled our beloved family dog Shiva in early May. Shiva was a rescue kelpie-x who came into our lives (via ACT Rescue & Foster) over 9 years ago. She certainly made our lives more interesting and she taught us so much. In the last few months before she died she was also a brilliant running partner, waking me up for and accompanying me on pre-dawn runs. Throughout Shiva's life she had such great care from Matt and the team at Small Friends Veterinary Hospital (and we received an especially lovely condolence card and print of Shiva's paw afterwards). Those that met Shiva know that she was a huge softy but was quite scared of strangers. But she has always loved Matt and was never fussed about going to the vet. If you are ever looking for a Canberra-based vet, Small Friends is really great. Although it wasn't easy we were also really honest with E about what was happening and gave her the opportunity to have plenty of farewell pats. She asked a few questions (kids are so literal and don't care for adult euphemisms around death) and was pretty upset, but accepted it more easily than I expected. Kids are so often more resilient and understanding than we give them credit for.