These Head & Heart posts, like many things, get harder to write the longer I put off writing them. I've found that there is a small window between feeling like I have enough to say and having too much – when I struggle to know where to start and to end, what to leave out and what to include. But inspired by the 'good list' episodes on Tsh Oxenrider's The Simple Show, I've decided to simply share 3–5 things that are adding value to my life right now.
Getting up early to exercise and meditate
For the past six weeks or so I've been getting up around 5.15am and going for a 1/2 hour walk or jog with the dog, followed (on most mornings) by a quick 3-minute meditation. Exercising and meditating have such a significant impact on my mental wellbeing and I'm definitely feeling happier, calmer and more positive. And I've been surprised how easily I've adjusted to the pre-dawn start – I suspect it would be even easier if I could consistently achieve an earlier bedtime (that's another challenge!). I've been plodding my way through the C25K program again. I want to run a 10k this year and a 5k still feels a long way off – let alone 10! But I'm trusting the process and the program. As a facilitator and trainer (that occasionally has a tendency to want to have a lot of say over outcome!) this feels important to practice. I've also been using this Intervals app which is great!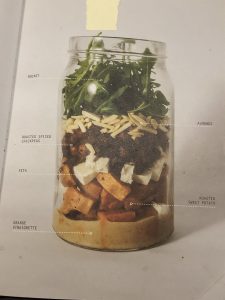 Jar salads
Jar salads have been a game-changer. This roasted spiced chickpea & sweet potato salad with orange vinaigrette from Jar Salads: 52 happy, healthy lunches by Alexander Hart is our favourite. We got some glass jars from Target and I'll make up 5 or 6 at a time.
Using Siri + Reminders to manage our grocery list
I got an Apple Watch for Christmas and one of my favourite and most used features is being able to ask Siri to add an item to our (shared) grocery list (in Reminders) at any time, wherever I am. I've also changed my Siri to the Australian male voice after reading this post (see tip #34).
Derek Sivers' bike-riding story
As we, like many families, try to navigate the demands of kid drop-offs and getting to work, I've often found myself feeling rushed and rushing the kids (which never ends well!). So I've been thinking about this story from Derek Sivers a lot lately.
New podcast discoveries
After a bit of a run of audiobooks earlier in the year, I'm back in a podcast phase. I binged the entire series of The Drop Out, and two other recent discoveries that are on heavy rotation are David Tennant does a podcast with…, and Feel Better, Live More.
If you'd like to receive Head & Heart posts via email, you can sign up here.