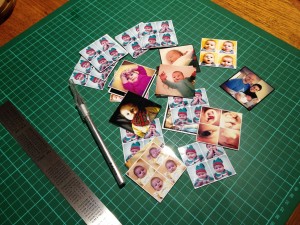 A new baby means lots of photos and I wanted to make some fridge magnets to show them off and to give to family as Christmas gifts. I looked into Stickygram, but it's expensive and I also wanted to make magnets from some of my photos that weren't on Instagram. So instead I turned to Google and decided to DIY (basing much of what I did on this post). I'm pretty pleased with the results so thought I'd share what I did….
Things you need
Your printed photos (see below for some tips and tricks for getting your photos ready to print)
Adhesive magnet sheets (I ordered mine from eBay (search for A4 self-adhesive magnets and you should find plenty of sellers), $6.95 for 4 A4 sheets)
Cutting knife (I got a new Xacto knife, it's lovely)
Cutting mat
Ruler
Steps
I first selected the photos I wanted to print (either from Instagram or in iPhoto) and saved them to my computer. I then used Photoshop Elements to edit, crop and resize the photos (but you could use any image editing software). I wanted the final magnets to be 2″x2″ so I cropped and resized each of the images to these dimensions (make sure the resolution of each of your images is the same too – I used 300ppi).
In theory, six 2″x2″ images should be able to fit in a standard 6″x4″ print, but I found that when I did this, no matter what printing option I chose, it always cropped the edges of my images. So instead I decided to print the six images on a  5″x7″ photo. In Photoshop Elements I created a new 5″x7″ file (make sure that the resolution of this file is also 300ppi), made the background layer grey, and then arranged the each of the six 2″x2″ images in the centre of the canvas (so it was basically a 6″x4″ photo grid with a grey border around the edge).
The next step was to print the photos (I just used Big W). Printing 5″x7″ photos is a little more expensive than 6″x4″ (30c v 15c I think), but it ensures that your images will remain intact.
Trim the grey border off the print and then stick it to the adhesive paper, giving it a bit of a firm press/smooth. Then simply cut out each of the six squares and ta-dah! They make a great, inexpensive present for Christmas or Mothers'/Fathers' Day, or are just a fun (and practical) way to display some of your photos.