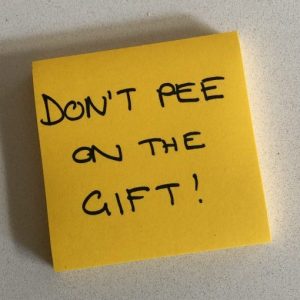 One of my favourite pieces of advice from Jancee Dunn's How Not to Hate Your Husband After Kids is "don't pee on the gift". It means don't tell your spouse you're OK with something he or she wants to do (a weekend getaway, an hours-long bike ride, an afternoon nap) and then fume about it after the fact.
Our dog has just had surgery and has been pretty sick with an infection. However, the (very shiny) silver lining is that I get a weekend at home to look after her, while J takes the kids on our planned family trip to visit his parents. This is possibly one of the greatest gifts J has ever given me and just the anticipation of a forthcoming weekend alone brings me so much joy. I am very conscious that J's weekend (involving 7 hours of driving with a 5 and almost 2-year-old) might not be quite so joyful, but I've told him (repeatedly) that he can't pee on the gift!
Other things that have brought value/joy to my life lately….
Chat 10 Looks 3
I was in a bit of a blergh mood during a morning commute to work this week. Chat 10 always makes me smile and the latest episode was no exception.
This Jamie Oliver salsa recipe
It was J's birthday last week and I made these chicken fajitas for his birthday dinner. The salsa is especially delicious (note: I used some chipotle sauce as a substitute for the dried smoked chipotle) and it made me appreciate the value of a great sauce/dressing/condiment to transform an ordinary meal into something super tasty. On a related note, I've just started having Dijon mustard on my toasted sandwiches and have added this to the long list of things I wonder why I didn't discover sooner!
iOS Shortcuts
I've recently started experimenting with the Shortcuts app on my iPhone after listening to this episode of the Day One podcast (Day One is my journaling app of choice) and subsequently a few episodes of Automators. Much of the technical detail goes over my head but it's still been fun to engage my brain in a new and geeky way and come up with interesting ways to quickly/efficiently handle some of the things I do with my phone – like journal entries, starting new timers in Toggl (for time tracking), and one I set up recently where Siri will tell me what time I'm expected to arrive home.
The 'Week in Review'
I wrote about this in my what worked in 2018 post, and last week my dear friend Emily and I sent our 52nd weekly reflective update. This practice continues to be so important to me and I'm so pleased/proud that we've been able to keep it up for a year (I doubt I would have been able to without the accountability to Em). Last time I posted about the WIR, lots of people asked for the questions and I do intend to do a separate post at some stage. But in the meantime, these are the questions we're currently using (they've iterated a little over time). Credit and much thanks is owed to Amanda for introducing me to her similar practice and sharing her questions.
Bluey
As most Australian parents of preschoolers would know, new episodes of Bluey are out. J and I think Bandit and Chilli (Bluey's dad and mum) are pretty great parenting role models!
If you'd like to receive Head & Heart posts via email, you can sign up here.