One of my favourite posts to write last year was a wrap up of what worked for me in 2017. This 2018 edition has been sitting in a half-completed draft form for weeks, and although the time for new year reflection has probably passed (now that we're more than a full month into 2019!) I wanted to publish it anyway! Some of those things from 2017 (like journalling and decluttering) continued to be an important part of my life in 2018 and others dropped away (like the TV-ban for Ella!). Here's what stood out as things that worked for me in 2018….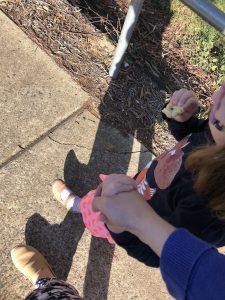 Walking E to school
We live a few hundred metres from the local primary school. When we bought our place I don't think either of us imagined that we would be living there 10 years later, so proximity to schools wasn't something on our radar. E started pre-school in 2018 and walking her to and from school was an unexpectedly delightful part of my week. It's a short amount of uninterrupted time to connect and hold hands and have random conversations.
Taking a daily probiotic
I was quite sick in 2017 with persistent pneumonia and had more courses of antibiotics than I could count. While filling another prescription in late 2017, the pharmacy assistant recommended I take a probiotic. Perhaps it's just a placebo effect, but I had no further chest infections in 2018 and largely avoided any significant colds.
A weekly reflective practice
In March 2018 my friend Emily and I started exchanging a weekly email based on a series of reflective question prompts (which were suggested to me by my friend Amanda (who has a similar regular email exchange practice)). The questions focus on what worked well, gratitude, and values and intentions. The simple act of asking (and answering) these questions makes me more alert to the good things in my life.
Meditating
I've gone through periods of meditating consistently in the past and always found it beneficial but I tended to let it go during periods when I was busy or stressed at work and actually needed it most. Since March 2018 I've had a pretty consistent practice – not every day – but something I do more often than not. And my meditation bar is pretty low – it's typically just a 5 min guided meditation using the Calm app.
Returning to work
After the blur of maternity leave and sickness in 2017, I returned to work in 2018 doing more of the training, facilitation and coaching work I love. I am so grateful to have work that I enjoy and that energises me and has the flexibility that I need at this stage in my life. I look forward to going to work and I think it makes me a happier, (mentally) healthier mum and partner.
Splitting caring days with J
One of the things that helped the return to work was splitting care days with my husband, J. It's much easier to leave the house to get to work when you don't also have to stress about getting little people clothed, fed, cleaned up and to daycare/school at a certain time. It also helped me to reduce any tendency toward maternal gatekeeping and created the space for J and E to bond and develop their own little weekly rituals.
Running
I discovered I actually enjoyed running about 9 or so years ago and did it pretty consistently until E was born. Since then I've struggled to get back into it. But in 2018 I actually finished the C25K program and did a 5k fun run. Using a C25K app was great as I just did what the friendly voice told me to do – there was no thinking or planning required on my part, and slowly building up run/walk intervals helped to avoid any injury. I didn't maintain the running in the second half of the year, so am starting again – with the goal of doing a 10k in 2019.
Cancelling our credit card and negotiating a better home loan rate
I read The Barefoot Investor back in 2017 but have been pretty slow to fully jump on board. In 2018 I took a couple of positive steps toward getting our financial s#*t sorted – cancelling our main credit card and negotiating a lower interest rate on our home loan. Related – Season 1 of The Pineapple Project podcast was also really good and prompted me to make a few other changes like buying more second hand clothes.
Completing a coaching certification
When I look back at old journal entries and angsty 'what am I doing with my life?' notebook scribbles, it's clear now that coaching others (in an informal sense) has been something that's provided much joy and energy in my work life, so I wonder why it took me so long to actually do some coach training? The IECL Level 1 course in February exceeded all my expectations. I learned so much – not only about coaching, but about myself, and about facilitating engaging training. This course has had a massive impact on my coaching practice and has provided the foundational skills and confidence to start coaching in a more formal capacity. What I wasn't expecting was the significant impact the course would have on how I approach other close relationships in my life – I think I'm a better listener and better at maintaining 'detached empathy'. On a related note, asking what rather than why has also been a beneficial habit to practice.
My favourite things
I'm continuing to try to declutter and be more intentional about 'stuff' but there were definitely a few 'things' that added value to my life in 2018.
AirPods – I'm not sure I would have bought a pair (they do look ridiculous) but J was gifted some which I subsequently appropriated. I've really enjoyed being able to listen to podcasts/books and to go running without being physically tethered to my phone.
A multi-cooker – Like many families, dinner time is stressful with kids/work/childcare pickups so having a cooked meal ready to go when you walk in the door is a lifesaver. The timer and the pressure cooker function on this one make it a big improvement over the old one I had. Several recipes from The Easiest Slow Cooker Book Ever are now staples in our house.
A fly swat – A bit of a random addition but I honestly have got a lot of use out of this since J bought one for me at the start of 2018. I hate flies, but I also hate spraying fly spray in our open plan kitchen/dining area.

A custom portrait from Able & Game is one of my favourite things!

A custom portrait from Able & Game – I have been coveting one of these for years. It makes me smile whenever I look at it.
A hot water bottle – This wasn't a new acquisition in 2018, but just something I started using almost every night from April-October. Getting into a toasty warm bed is the best!