Head & Heart is designed to be "a monthly capture of my feelings and doings, in the raw." 
What I've been doing
Finally getting around to doing/finishing my Cert IV in Training & Assessment (thanks to work supporting/sponsoring my participation on a course).
Meditating. After last month's thoughts on why I don't meditate more, this month I've committed to doing it and it's feeling great! Key things that are helping me integrate it into my day and start to develop a semi-regular practice – the Calm app (I completed the free 7 days of calm course and have now signed up for an annual subscription), and making time (it only takes 10 minutes) to meditate earlier in the evening rather than waiting until all my to-dos are done (which of course they never are)!
Exercising. Another thing that I've prioritised this month is getting out for some regular exercise. I've realised that no-one is going to magically create time for me to exercise, so I need to carve it out. I haven't been walking far or fast, but regularly getting out a few times a week for 30 mins is better than what I was managing before. Jason and I have also started a block of personal training sessions with Simon Le. Jason and I used to do training together many years ago, and I'd forgotten how much I enjoyed that. We managed to find a little window of time on our lunch break one day a week when Ella is in daycare, so we've decided that doing PT will be our weekly 'date'. We'll invest the $$ we might otherwise occasionally spend on dinner and babysitter on getting physically (and mentally) healthier together.
Practice recording for the Women Talk Work podcast. I'm still way behind where I hoped I'd be, but this month I've been doing a bit of practice recording/editing, just playing around with microphone technique and the basics of recording and editing in GarageBand.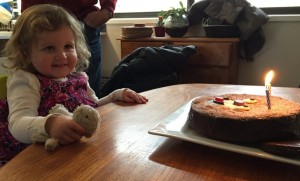 I'm grateful for
The wonderful people in our life that love and care for Ella. She turned 2 this month and her birthday (and the gifts and cards that she received) was a lovely reminder of all the great people in her/our life.
I've been thinking about
Being my best me. More specifically, I've been thinking about how I can flip my thinking to stop focusing on the ways in which Ella/being a parent prevents me from being my 'best me' – like finding it difficult to get time to exercise, getting enough sleep, spending quality time with friends etc – and instead focus on how I can be the 'best me' in the moment, whatever and whenever that moment is (including at 2am with a sleepless toddler). I've also being trying to think about all the benefits I do get from being a parent (rather than the things I've 'lost') – like learning patience, creativity, thinking on my feet, being less self-conscious etc.
My addiction to sugar. I'm becoming increasingly aware of the ways my body reacts to sugar – particularly in my skin, and also my sinuses (that might sound weird and maybe it's just a coincidence, I haven't investigated the link properly) – but yet I still consume more than I'd like to and struggle to cut back/eliminate despite knowing that it would most likely make me feel much better.